PS61 OEM Subminiature pressure switch – Updates
Gems Sensors and Controls updates to the PS61 Pressure switch product family.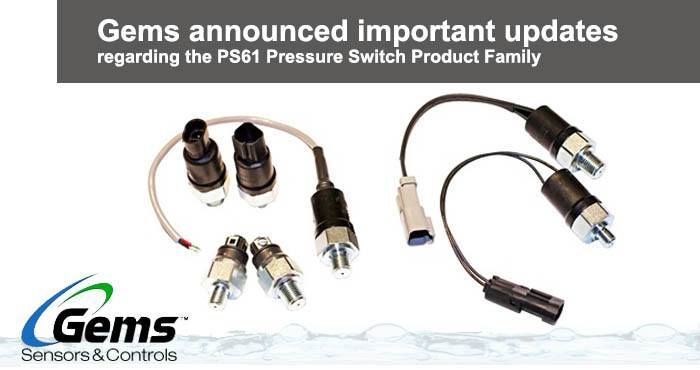 The pressure switch family now offers the following key enhancements to our PS61 products:
Compact

–

shorter overall length. 

Increased temperature performance to 250°F (121°C).

Additional integral electrical connector choices.

Improved Ingress Protection (IP) to IPX7, IPX9K, and IP6KX. 

Expanded pressure ranges between 10-4350 PSI (0.7-300 Bar.) 

Clear RoHs compliant Zinc plated fittings
In addition the updated PS61 pressure switch product family is replacing the legacy PS61, PS61P, PS52, and PS32 product families. 
Thorough validation testing has been conducted to ensure the updated PS61 product meets the legacy products on-line specifications as a form and function drop-in replacement.
The PS61 delivers excellent pressure capability in a compact 24mm size.
The modular design allows the user to customize the pressure interface with a wide variety of US, British and ISO stud ends. In addition, numerous elastomers are available to ensure compatibility with the end user's fluid and expected operating temperature range.
The PS61 is available with seven different electrical termination options including integral connectors, flying leads, cable and connector harnesses.
All of this flexibility in a compact package, plus the availability of adjustable models, makes the PS61 the ideal product solution for demanding pressure switch applications.