General purpose solenoid valves
Highly adaptable design, latching valve, direct acting, high flow control, ruggedly designed solenoid valves, versatile miniature and sub-miniature solenoid valve, battery-powered applications, humidifier solenoid valve.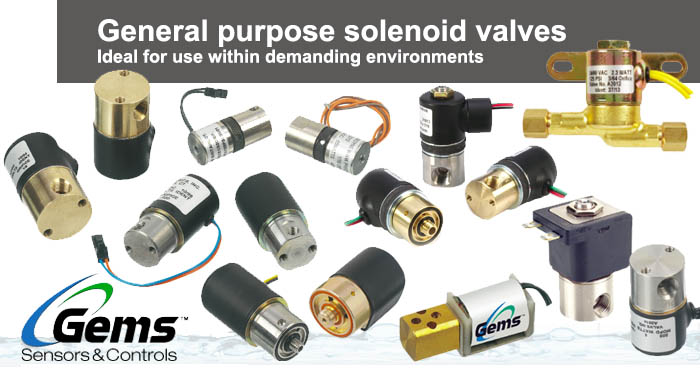 A series solenoid valve
gives you a highly adaptable design for practically all applications requiring flow between CV 0.019 and 0.300.  This robust 2- or 3-way miniature solenoid utilizes a stainless steel body to resist corrosion for most acids, alkaline solutions, and harsh environments.
BL series latching valve
allows the user to pulse the valve and have it change state. The voltage does not need to be constantly applied in order to hold it in a state. These valves are ideal for controlling larger pneumatic valves in remote applications where power is limited or when the temperature of the media cannot be impacted as it flows through the valve.
B series is a direct acting solenoid valve,
available in 2- or 3-way functionality. Like all of our valves, the B series has bubble tight plunger construction and is designed to last for millions of cycles in general purpose liquid, gas, and vacuum applications.
C series solenoid valve,
available only in brass, is a highy durable miniature 2- or 3-way direct acting valve for applications that require a higher flow control.
D series solenoid valve
For maximum flow in a miniature solenoid valve the D series valves deliver a wide range of CV values and maximum operating pressures.
F series is a family of ruggedly designed solenoid valves,
offering high-reliability for flow rate applications (orifices up to 3" and Cv up to 800) with a lifespan of up to 10 million cycles.
E and EH series sub-miniature solenoid valve
A 2- or 3-way sub-miniature solenoid valve that delivers faster response times – and higher flow rates, the E and EH series is specifically engineered for air and dry gas applications.
G and GH series solenoid valve
This versatile 2- or 3-way sub-miniature valve utilizes a stainless steel body to resist corrosion for most acids, alkaline solutions, and harsh environments.
M series solenoid valve
implements efficient power conservation in a solenoid valve that is specifically designed for sub-miniature two- and three-way performance requirements. In battery-powered applications, the M series can be designed for extreme low wattage conditions.
Humidifier solenoid valve
Originally designed and manufactured for original equipment manufacturers (OEM's), the humidifier solenoid valve is now available as a replacement solenoid valve for in-home and commercial humidifiers.