Gems flow sensing portfolio
Gems designs and manufactures a complete range of flow sensors and switches for the reliable and effective measurements of both conductive and non-conductive fluids, as well as gases.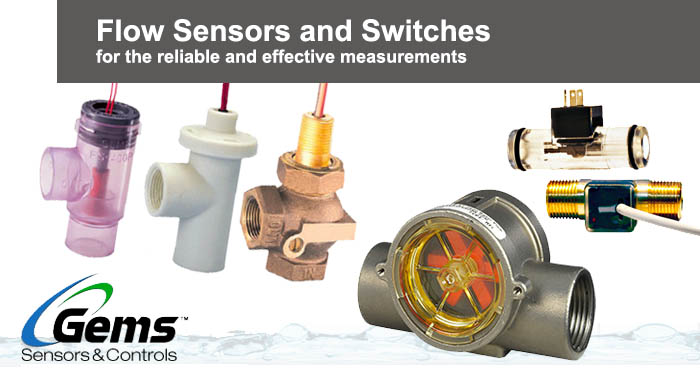 At preset rates ranging from 50cc / min to 100 GPM, rugged Gems flow switches will initiate alarm actuation or automatic system shutdown, making them a vital component of any predictive maintenance strategy. They are commonly specified for rotating equipment, conveyors, gas sampling and distilling, water purification systems, welders, semiconductor equipment, chemical processing, machine tool and robotics applications.
The complete Gems flow sensing portfolio is designed for versatility and performance. It is organized into five product types.
Piston types are designed for low flow rates in gases and liquids from 50cc / min to 20 GPM, with choice of alloy or plastic housings.

Shuttle models are used with high flow rates from 0.5 GPM to 100.0 GPM.

Paddle models are for larger line sizes, typically 1.25" and up.

Thermal dispersion technologies feature no moving parts, making them ideal for applications where particulate matter is also a concern. 

Electronic flow switches encompass state-of-the-art electronics and positive visual indication.
All Gems flow switches feature high-quality, corrosion-resistant materials, ensuring their continued performance within challenging environments. Material choices, ranging from stainless steel to Ryton, further offer vast chemical compatibility. In addition, models are offered with fixed or adjustable actuation settings; viscosity compensation or high pressures; media compatibility with slurries and particulates; as well as in-line models and designs to satisfy any mounting or space requirement.