Gems flow switches
Gems line of flow switches feature a broad range of configurations for use in liquids or gases. At preset rates, ranging from 50 cc/min to 100 GPM, Gems switches will initiate alarm actuation or automatic shut-down of a system.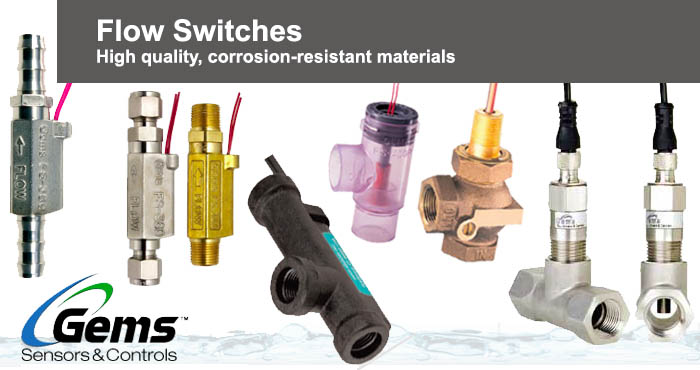 Unique designs... For use in liquids or gases

The Gems switches feature high quality, corrosion-resistant materials for use in the toughest environments. Material choices, ranging from stainless steel to Ryton offer vast chemical compatibility. Versions include switches with fixed or adjustable actuation settings, models for viscosity compensation or high pressures, in-line models and designs to satisfy any mounting or space requirement.
Variety of operating principles

The versatile Gems flow switch line utilizes four basic operating principles. Piston types are designed for low flow rates in gases and liquids from 50 cc/min to 20 GPM. Shuttle models are for use with high flow rates from .5 GPM to 100.0 GPM. Paddle models are for large line sizes from 1.25" (32 mm) and up. Electronic switches encompass state-of-the-art electronics and positive visual indication.
FS-600 - No-moving-parts flow switch
The FS-600 series flow switch uses proven thermal dispersion technology to provide a robust no moving parts flow switch even without filtration.
The solid state sensor is compatible with both conductive and non-conductive fluids. Suitable for fluids with particulates or slurries, and is immune to changes in media viscosity. The straight through switch is designed for a long life and can be mounted in any orientation and can handle a wide range of flow rates. No moving parts means years of reliable service.
Flow rate settings: 0.1 GPM to 11 GPM (0.5 LPM to 41 LPM)

Port size: 1/2" to 1-1/2" (NPT or G thread)

Setting type: Fixed
Piston Type Flow Switches
For low flow rates in liquids and gases

Models for liquid flow rates as low as 50cc / min. and gas flow rates as low as 2 SCFH.

Small, compact housings with port sizes from 1/4" NPT

Precision built for superior accuracy
Shuttle Type Flow Switches
For moderate to high liquid flow rates

Models for flow rate settings from .5 GPM to 100.0 GPM

Rugged housings with port sizes ranging from 3/4" NPT to 3" NPT

Efficient flow paths assure low line pressure drop at full flow
Paddle Type Flow Switches
For flow / no-flow detection in large line sizes

Engineered for positive liquid flow detection at pressures up to 2000psig (138 bar)

Unique, patented cam design assures low pressure drop and does not require bellows, seals, or mechanical linkages

Minimum in-line restriction; paddle pivots to move out of liquid path